About Us
Singapore homes for rent or sale
Latest news about rentals will be

in

the two blogs below:
Blog: Rates of Serviced Apartments
Blog: Rentals of Singapore residences
For Rent/Sale in 2015


Liang Seah Place for expatriates. Near Raffles Place. 1 and 2-bedroom

Lotus At Barker – townhouses near Newton and Orchard Road
Lotus At Jervois – serviced apartments nearer to Orchard Road
Lotus At Joo Chiat – serviced apartments nearer to East Coast area

Fraser Suites At River Valley - 1-bedroom serviced apartments

The Bencoolen Residences 2 & 3-bedroom for rent. Near Bugis subway and Suntec City

Residences At Reflections for short-term lease - 2, 3 and 4-bedrooms. The minimum rental period is 6 months. Waterfront, very near to Vivo City and subway.

The Ritz Carlton Residences for one-year leases. Maid services at 3x/week can be arranged. 3-bedroom 2831 sq ft $18,000 f/f + maid's services while a 4-bedroom3057 sq ft rent around $26,000.

Barker Road townhouses, near the American Club & Orchard Road, for rent.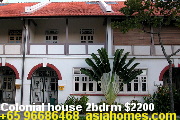 POPULAR

PROPERTY

FOR RENT

:
S$5,500 - $9,800 for Townerville colonial houses for rent. No condo facilities.

For Sale

MYANMAR PROPERTIES FOR SALE
JOINT-VENTURE INVESTORS AND DEVELOPERS WANTED for hotel and serviced apartments in Myanmar.

E-mail judy@asiahomes.com or tel +65 9668 6468
Singapore condos & houses
Subdivisions
American School: houses, condos
Australian/French School: houses, condos
Bungalows
Cluster houses share a pool
Condos over 2500 sq. ft
Expats' Houses
House-Hunting with expatriates - Rental Records
Penthouses
Semi-detached houses
Townhouses & maisonettes
Unique Singapore homes
Upscale Houses
Singapore's newer condos for rent/sale
S
ervices
HDB, condo & house management for absentee/overseas owners
HDB apartment rental system
Archives
Past rentals and sales. Some units may be vacated and available for rent as tenancies expire at various times.
2011- 2012 rentals and sales
Past Photo-Ad

s of rental properties
Tips
Tips for first-time realtors
Tips for relocating expats
Tips for first-time Buyer/Investor
Realtors Wanted
Internet Realtors Wanted
Adverts

designtravelpl.com
Focus: Myanmar travels and tours and international student tourism. Queries to: judy@designtravelpl.com or tel: +65 9668-6468

toapayohvets.com
F

ocus: Dogs, cats, rabbits, hamsters, guinea pigs,terrapins, pet rats

Information for expatriates

We provide a convenient and usually free services to expatriates and their office people looking for Singapore rentals/investments or short-leases and don't have time to do the negotiations and phone calls.

Refer to: Subdivisions (Singapore condo & house details of interest to expats). Or short term leases at Serviced apartments.

Phone/text 9668-6468, judy@asiahomes.com.

E-mail or fax house-hunting form to us at 6256-0501 and we will contact you within 24-48 hours. Mobile Tel: +65 9668-6468 to get immediate answers to your queries or make appointments to view apartments when you arrive in Singapore. A small number of rental or sale properties are listed on this webpage to help expatriates overseas looking to work in Singapore, to know the asking prices.

Serviced apartments and Subdivisions (condo & house details) provide the overall information about Singapore accommodation

We are NOT able to update daily as properties are hot and rented out/sold out fast. Tel: + 9668 6468, 65 6254-3326. Fax: +65 6256-0501 to get more info. E-mail: judy@asiahomes.com to get a list of housing/serviced apartments or to view housing in Singapore.

©Asia USA Realty (Singapore) asiahomes.com
Pte Ltd. Website: asiahomes.com.
Blk 1002, Toa Payoh Lor 8, #01-1477, Singapore 319074
Republic of Singapore
Estate Agents Licence No. L3007306B
Salesperson Name/Registration No. Sing Kong Yuen/R030822Z

Asia USA Realty (Singapore) asiahomes.com Pte Ltd


Finding Affordable Homes For Expatriates

Copyright © Asiahomes
All rights reserved. May 14, 2015