We provide rental management services for homes purchased by foreigners and for absentee landlord Singaporeans based overseas.

Information of some of our rental services for expatriates and foreigners are as follows:

1. Liang Seah Place for expatriates. Near Raffles Place. 1 and 2-bedroom for rent. Near to Suntec City.



2.

Lotus At Barker – townhouses near Newton and Orchard Road

. Other townhouses in Chancery Lane are available for rent.





3.

Lotus At Jervois – serviced apartments nearer to Orchard Road



4.

Lotus At Joo Chiat – serviced apartments nearer to East Coast area



5.

Fraser Suites At River Valley - 1-bedroom serviced apartments



6.

The Bencoolen Residences 2 & 3-bedroom

units

for rent. Near Bugis subway and Suntec City

7. Residences @ Keppel Bay
for short-term

& long-term

lease - 2, 3 and 4-bedrooms. The minimum rental period is 6 months. Waterfront, very near to Vivo City and subway.

8. Shangri-la Residences

, opposite Shangri-la Hotel. R

ent

al period is

a minimum of 6 months.



9.

The Ritz Carlton Residences for one-year leases. Maid services at 3x/week can be arranged. 3-bedroom 2831 sq ft

rents from

$1

5

,000 f/f services while a 4-bedroom

3057 sq ft rent around $26,000.

Actual rentals depend on units and floor levels.

10. Houses, bungalows and terrace houses, near the American School in Woodlands for rent.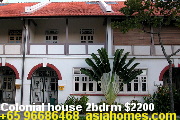 11. POPULAR PROPERTY FOR RENT:
Townerville colonial houses for rent. No condo facilities.

12. Foreign Properties
MYANMAR PROPERTIES FOR SALE
JOINT-VENTURE INVESTORS AND DEVELOPERS WANTED for hotel and serviced apartments in Myanmar