Asia USA Realty (Singapore)
asiahomes.com Pte Ltd
Blk 1002, Toa Payoh Lor 8, #01-1477, Singapore 319074
Republic of Singapore
Estate Agents Licence No. L3007306B
David Sing Kong Yuen/R030822Z
Tel: 9668-6468, 6254-3326
02 June, 2021
Focus: We get for you affordable Singapore homes
Rent or Investment

1. Singapore Properties for rent - 2021
1.1 Rooms For Rent
- Ridgewood master bedroom for rent $1,350 fully furnished
- Ridgewood common bedroom 1 for rent $900 fully furnished
Bright, clean, breezy, well ventilated, 21st floor

Go to IMAGES of Ridgewood master bedroom AND common bedroom 1 for rent at:
RIDGEWOOD ROOMS FOR RENT - 1 JUN 2021
1.2 Conservation Houses
1. Niven Road, 3+Utility, 2400 sq. ft, $6,800
2. Townerville,2-bedroom, 2162 sq. ft, $5,300. 3-bedroom, 2424 sq. ft, $3,000
Some expats use these houses as "home offices" privately.
1.3 Cluster Houses
1. Greenwood Mews, 271 Greenwood Ave, 5+Utility, 3391 sq. ft, $9,800. 3100 sq. ft $9,300
2. Chancery Grove, Chancery Lane townhouses, 4+Roof top, 2896 sq. ft, $7,100, near Boon Keng subway
3. Whiteshore cluster bungalow, Punggol 17th Avenue. 4+Utility, 6039 sq. ft. $6,200
4. Banyan Villa Semi-detached with pool, 4+Utility, 3652 sq. ft land area, 3079 sq. ft built-in area, $6,500
1.4 Condo. The Scotts Tower, 38 Scotts Road
The Scotts Tower penthouse, 2,174 - 2,357 sq ft for rent: $16,000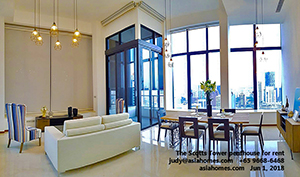 The Scotts Tower apartment, 14th floor, 1+study, 850 sq. ft $5,700
22nd floor, 2-bedroom, 872 sq. ft $6,300

2. Other Singapore Properties
It is not possible to list every unit for rent/sale. Some expired listings may be available for rent now.

2. Black and white bungalow listings at: Black & white bungalows. Some units may be available. judy@asiahomes.com Tel/sms: +65 9668-6468.

3.

F

oreign Properties
Joint-venture in h

otel

,

serviced apartments

and properties/businesses

in Myanmar. Contact judy@asiahomes.com Tel/sms: +65 9668-6468.
OUR SERVICES

1. We provide a convenient and free service to expatriates and their office people and foreigners looking for Singapore rentals/investments or short-leases. Such people don't have time to do the negotiations and phone calls and use our services. Please do not abuse this service if you intend to seek your own rental property.

2. We provide rental management services for homes purchased by foreigners and for absentee landlord Singaporeans based overseas.

3. We help foreigners and locals to buy condos and other residences in Singapore.

We are NOT able to update daily as many properties are rented out/sold out fast. For more info.
,
Tel/SMS:

9668-6468, 9668-6469, 6254-3326.
Fax: +65 6256-0501 for viewing or updates.